Your Trusted Septic Tank Specialists
Welcome to Envirosan, your go-to provider of septic tank emptying services. With years of experience in the industry, we are committed to offering prompt, efficient, and eco-friendly solutions for all your septic tank needs.
We are a registered waste carrier with SEPA and with their consent we can discharge at the local sewage works. This allows us to empty your septic tank quickly and efficiently from any location like your home, business, construction site or campsites.
Comprehensive Septic Tank Services
At Envirosan, we understand the importance of maintaining a healthy and functional septic tank system. That's why we offer a range of services to meet your needs, including:
Beginning with a comprehensive on-site evaluation, our team [ Ben or Andy] ensures that the chosen system is perfectly tailored to your property's unique requirements. Post assessment, our professionals meticulously mark out the installation site, ensuring minimal disruption to your landscape. Using state-of-the-art equipment, we then proceed with the installation, always adhering to stringent safety and environmental protocols. 
Once in place, our team conducts a series of rigorous tests to guarantee flawless functionality. Throughout this process, Envirosan's experts keep you informed, ensuring transparency and providing guidance at every step. With us, your septic tank installation isn't just a service—it's a partnership built on trust and expertise.
To ensure your new septic tank stays in great working order we offer a range of maintenance plans from monthly to yearly contracts. 
When it comes to effective and efficient drain clearing, Envirosan brings its expertise to the fore with its specialised medium pressure services. Recognising that not every blockage or drainage issue requires high-intensity treatments, our medium pressure service strikes the perfect balance, ensuring powerful yet gentle clearing of obstructions. The force is precisely calibrated to dislodge common blockages like sediment build-up, grease, or organic matter without causing damage to the integrity of the drain infrastructure. Our method prioritises not only the effective clearing of the blockage but also the prolonged health of your drainage system.
Our skilled technicians, Ben or Mark who are equipped with the latest technology, ensure a rapid response to your drainage woes. We understand the inconvenience a blocked drain can present, and our medium pressure services are designed to restore normalcy with minimum downtime. Safety remains paramount: our team takes every precaution, ensuring that the surrounding areas are unaffected and the environment remains uncontaminated. With Envirosan's medium pressure services, you get a solution that is swift, efficient, and environmentally responsible, ensuring your drains remain in peak condition for years to come.
At Envirosan, we understand the crucial role a septic tank plays in maintaining the harmony of your home or business environment. When a septic tank gets damaged, it's not just about the immediate inconvenience but also the potential long-term environmental and health impacts. Leveraging our deep-rooted expertise in the industry, we offer comprehensive repair services tailored to address and rectify a range of damages. Whether it's a minor crack or a more significant structural concern, our team of seasoned technicians approaches each repair with precision and care, using the latest techniques and materials to ensure your septic tank returns to its optimal state.
Recognising that each damaged septic tank presents unique challenges, our initial assessment is thorough and diagnostic in nature, enabling us to pinpoint the root cause of the issue. Once identified, we tailor a repair strategy that not only addresses the immediate concern but also factors in preventive measures to mitigate future damages. Our commitment is to provide you with a solution that's lasting and reliable. Envirosan prides itself on offering more than just a temporary fix; we offer peace of mind, knowing that with our repair services, your septic tank's longevity and performance are enhanced, safeguarding your property and the environment for years to come. Call the office and ask for Ben.  
Why Use Envirosan For Septic Tank Services
As a trusted provider of septic tank services, our team of professionals are dedicated to ensuring your complete satisfaction. Here are some reasons why you should choose Envirosan for your septic tank emptying needs:
Expertise – Our Service Tanker Drivers are trained in all aspects for Septic Tank (also referred to as Cess Pit or Cess Pool) waste removal.  We operate 4 different sizes of tanker, this creates an ability to service almost every location. 

Reliability – We pride ourselves on our prompt response times and commitment to customer satisfaction. We'll be there when you need us.

Eco-Friendly Solutions – We use environmentally friendly methods and materials to ensure the long-term health of your septic system and minimize the impact on the environment.

Affordable Pricing – We offer competitive rates for our septic tank emptying services, ensuring you receive top-quality service at a reasonable price.

Local Service – As a Scottish-based company, we understand the unique needs of our community and are proud to support local businesses and homeowners.
Envirosan has built a reputation on our service standards. We offer a "Can Do" service.
We provide a survey service, the charge for this is redeemable against your order to service the septic tank.
The benefit of a survey ensures:
We arrive with enough flexi hose to remove your waste
We understand the terrain and environment
We can gage the service type you will require to ensure you have a septic tank that is fit for purpose.
You may have a blockage. We can then price that into the visit, keeping your charges to a minimum.
At Envirosan;
We don't just remove the waste water from your septic tank.  We ensure that all of the sludge is removed at the same time.
Other service providers such as Scottish Water do not always achieve this.
Our Tankers are fitted with Mistral 402 series vacuum pumps.  These are incredibly powerful pumps and provide unmatched suction power in comparison to our competitors.
We offer three different services:
 Contracted Annual Rate:  This safeguards you against price increases and with regular servicing prevents a build up of sludge which leads to blockages.
Emergency Call Out:  This is a quick response premium service.  We will arrive at an agreed time to resolve your spillage/contamination issue.
One Time Call Out:  If you need us to unblock or empty your septic tank on an irregular basis.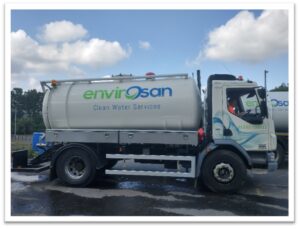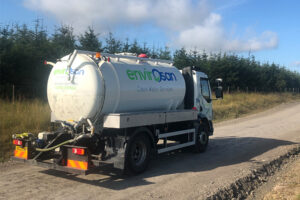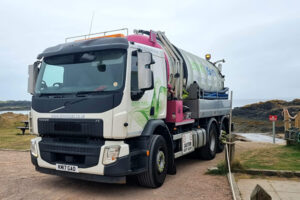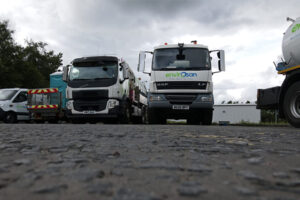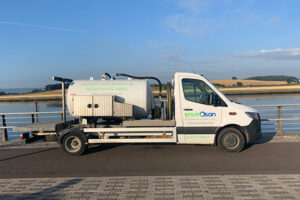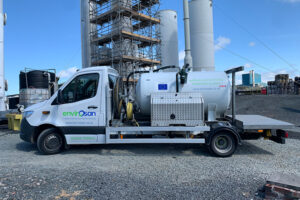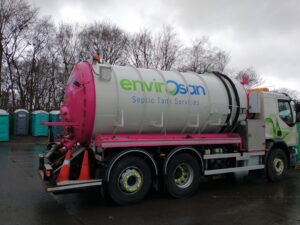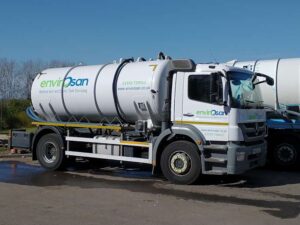 Borders Septic Tank Install
We were asked to assist with a delicate installation in the Borders.
The Bridge access was limited by weight restrictions.
We emptied the old tank from 120 meters away.
We prepped the grounds and re designed the storm water course as well as the new tank system to improve the efficiency of the waste output.
All materials had to be handballed due to the remoteness and the weight restrictions.
Tank and system were commissioned and ready to go by the end of the week.
Speak To One Of Our Experts