In This Issue Number 8
Welcome to Envirosan. Established in 1997, we specialize in affordable, high quality, portable toilet and sanitation services. We have invested heavily in the latest cleaning and decontamination technologies.
Septic Tank Service & Sanitation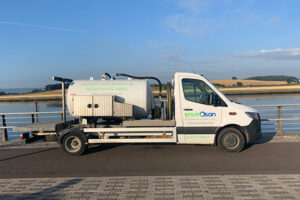 With 16 Smaller pump units, 4x4s, 3.5-ton ,5 ton and a 6.5-ton water carrier, we have a fleet of service vehicles and a team of dedicated driver service operators that are unequalled in our opinion.
We have added 200 new toilets in less than a year to supplement our already top-class toilet stock.
The onsite disposal plant is helping reduce our carbon footprint with reduced visits to Scottish water treatment stations.
We had some assistance from XOLI who specialize in this type of work, along with Scottish Water who advised us how to proceed.
If you need a new or a replacement septic tank at your premises domestic or commercial, I would recommend XOLI.
New Water Tanker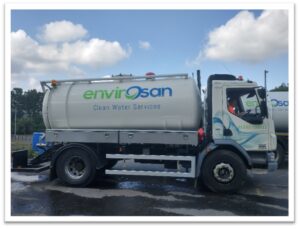 As you can see from the image to the left, the water tanker has its livery.
This 18-ton truck can deliver 1000ls per minute, or 10,000l in 10 minutes. What is so impressive about that you ask?
It means we can service your toilets, your welfare units quicker, we can empty more waste water in a day with a smaller fleet with the support of the water truck. Your customers will feel the benefit with more frequent visits possible with the added benefit of less time spent on site, clearing the way for other operational services.
Another batch of new portable toilets arrive.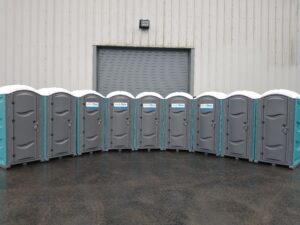 Another 44 Toilets arrived to bolster the fleet, we continue to grow and improve the fleet at Envirosan, replacing the tired older stock with new Shorelink toilets , our Transport Manager Stuart  Fraser commented "the Envirosan owners have invested over Half a million pounds in equipment in the last year, from 32 ton tankers to a new on site disposal plant. These are exciting times for the Envirosan team"
Suzie, Queen of the Envirosan Depot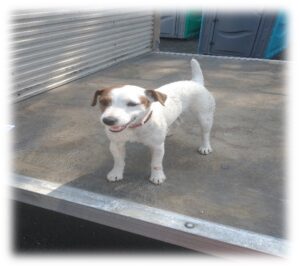 Suzie the jack Russell is a rescue, she has won the hearts of all the team, she joined us in May, settled in nicely, she moves easily from office to yard, charming all in her wake.
Septic Tank needs cleaned?  Call Nicola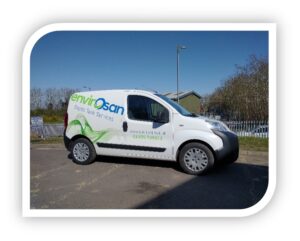 Nicola is waiting for the call, if you need your survey or tank serviced.  Call Nicola at the office, she will book your survey or the tanker visit To suit your circumstances, our tankers operate 7 days per week, if you are not sure of the size and type of your tank, call Nicola she will arrange a survey to ensure you have safe access and egress. Ben will provide an accurate price; He will offer a combined drain clearance and tank empty where appropriate.
Nicola can book you up for 3 years at a time, the benefits are a well serviced tank, a competitive fixed rate and the Envirosan guarantee of satisfaction. 01555 759 511