The Crinan Canal between Crinan and Ardrishaig in Argyll and Bute  in the west of Scotland is operated by Scottish Canals .
The canal, which opened in 1801, takes its name from the village of Crinan at its western end.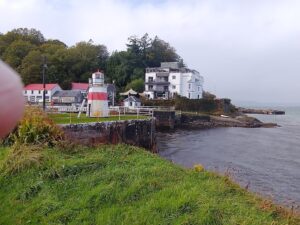 The canal was built to provide a short cut for commercial sailing and fishing vessels and later Clyde puffers  to travel between the industrialised region around Glasgow to the  West Highland villages and islands.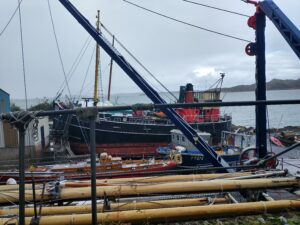 It was designed by civil engineer John Rennie  and work started in 1794, but was not completed until 1801, two years later than planned.
John Rennie was a Scottish Civil engineer , like his famous Scottish predecessor "Thomas Telford" has many tremendous engineering success's to his name.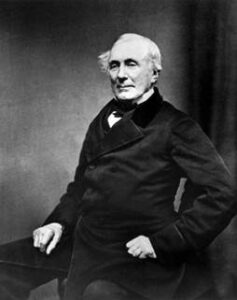 While working on the Crinan Canal John Rennie the gifted Scot was completing another masterpiece in London, "Wapping'sTobacco Dock",
Rennie is one of many Great Scots we are never taught about at School,
I hope the Scottish curriculum will ensure the endeavours and exploits of men like Rennie, and Telford are given the exposure they deserve.
Bill and Ben travelled through some wonderful villages including Furnace, Tulloch Gorm Kilmory and the town of Lochgilphead, the weather was on the damp side , however the autumnal  season made the places  seem even more colourful than we expected.
We made our way through Cairnbaan to Bellanoch, taking in the sights, and the locals.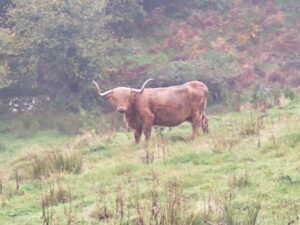 We made our way to the Crinan Harbour, neither of us had been there, a lovely wee spot.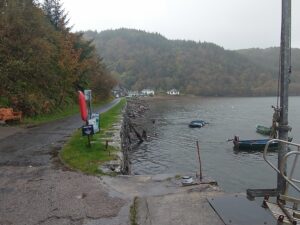 The last part of the journey , the Crinan canal Sea lock , led us to the Crinan canal café.
I can only say to any one going there , please stop , have a coffee, I had the apple and cinnamon cake , Ben had the short bread.
We were served by Debra, the best barista in the West of Scotland, she should be on the TV. We never met Barbara, you need to visit to find out who Barbara is!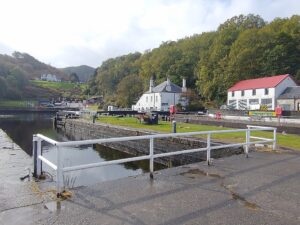 Bill and Ben headed home satisfied with our trip, I should mention we had some helpful information from the Site agent working for Mackenzie Construction at the Sea Lock, they are employed to drain the canal of water to allow them to renew and change the lock gates along stretches of the canal.
This alone made the trip memorable as it allows the visitor an insight in to the structure of the Crinan canal, the depth of the canal and the physical manpower that would have been required to create this wonder of civil engineering before mechanisation.
Visit Argyle and Bute!